BY THE GREENLINE POSTED ON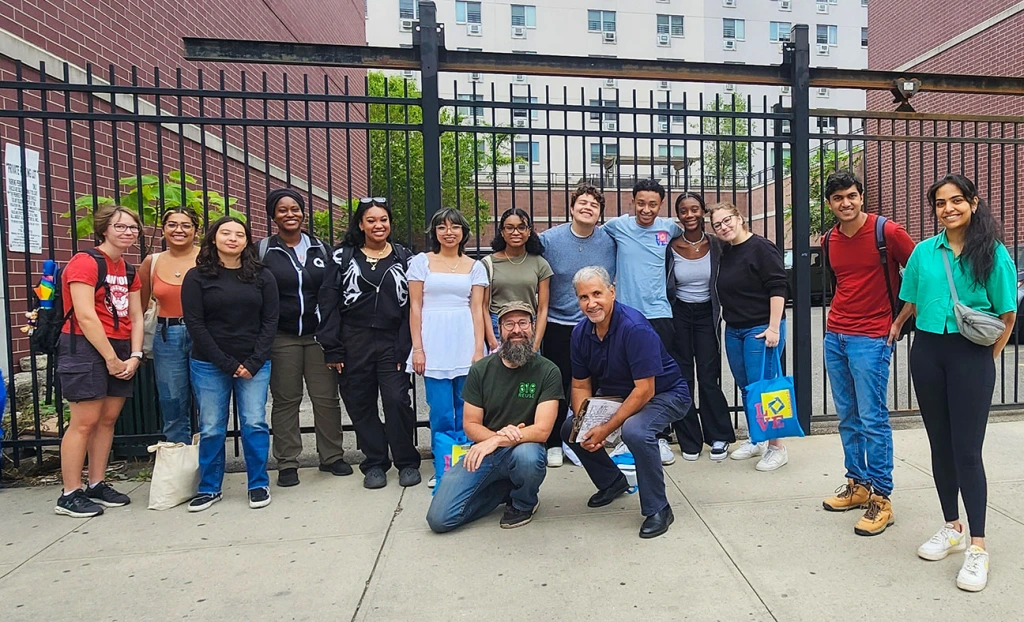 Alberto Valentin (front right) executive director of the Graham Avenue BID with NYU volunteers organized by Big Reuse for tree pit cleanup project.

Get to Know a Neighbor Q & A: Alberto Valentin
By the Greenline | August 30, 2023
Each month GREENLINE will introduce you to a community member whose work or actions have benefitted the area. This month's featured neighbor is Alberto Valentine. He is the executive director of the Graham Avenue BID, but also has a long history in North Brooklyn. "As a business improvement district, we look for every opportunity to engage residents and others to contribute their volunteer spirit. The key is my role connecting to the community, which is probably the most important thing I can do. Graham Avenue is more vibrant and [let's] get foot traffic here!"
One of the reasons he wanted to participate in Get to Know a Neighbor is he wanted to let people know more about the Graham Avenue BID and expand its reach. He's having tons of fun and hoping to have an impact in this community.
Question 1: What brought you to North Brooklyn?
Although he owns a home in South Ozone Park and he was born on Taffee Place in Bedford Steyvasant, near Pace University and lived in several neighborhoods of Brooklyn including: Brownsville (East NY), Fort Greene, Flatbush, and Sunset Park; he spent a lot of quality time in North Brooklyn.
"I graduated from Brooklyn Automotive High School in Greenpoint. I got married in 1979 right here in Williamsburg (the Marion Manor on Cook Street, off of Graham Avenue — it's no longer there of course). My aunt owned a few grocery stores in Los Sures (Southside of Williamsburg) so we came to Williamsburg frequently and many of my cousins lived in the area). I recently came back to Williamsburg to teach business administration at Boricua College (9 Graham Avenue) from where I got recruited as the executive director of BID, replacing Betty Cooney, who held the role many years."

Question 2: What neighborhoods in North Brooklyn are you familiar with?
"I've been working in the Graham Avenue section for over six years: three years at the college and almost three years in my ED role at Graham Avenue BID. My work at the BID is somewhat of a passion project, a way for me to give back to an area near where I was raised. I have fond memories of shopping on Graham Avenue and the Moore St Market (La Marqueta) when I was a kid.
Question 3: When did you begin to take an active role in the community?
"[As executive director of the BID] I am focused on revitalizing the Graham Ave commercial district in the face of many challenges it has faced for a number of years."
Question 4: How has North Brooklyn changed you?
"Working closely with the residents and merchants of the district, it's made me appreciate even more the importance of community, and this has motivated me to stay focused on "growing businesses and community together in new directions", which is the tagline of sorts that guides our work at the BID.
Question 5: What would you most like to say to new people moving into the community?
"Give the neighborhood's people and community a chance to develop positively by getting involved and engaged with your neighbors and the community initiatives."
Question 6: What is something you'd like to see in the neighborhood in 5–10 years?
"I'd like to see a stable, multi-ethnic neighborhood in which families can be raised and local shopping survives and thrives to meet the needs of the community. I would like to see an evolving retail landscape that has changed and survived the "retail apocalypse," but without the displacement that can easily happen if people aren't paying attention."
Question 7: What about this community makes you proud to work here?
"I like that this community (Graham Ave BID section of Williamsburg) has kept its identity as the "Avenue of Puerto Rico" and remains a cultural draw to people from outside the neighborhood. Many of the initiatives the BID is involved in, is to beautify the area and attract more shoppers and visitors. Like the newly installed tree guards and planting flowers in around the trees; we've just completed in 28 tree pits in our commercial corridor. We [had] a group of 20 NYU student volunteers organized by Big Reuse to support the BID's tree bed clean-up project."
We are also working to make it safer, by introducing our mobile app: Reportit."

This app when downloaded and entering the code: GRAHAMAVEBID allows the user to select quality of life issues (like sanitation issues, a person in need of assistance, graffiti, shoplifting, offering suggestions to the BID, etc.) to report for improvement that can be addressed more quickly than 311.
"I'd get an early warning and could triage to an agency that can get something done quickly. [This app isn't for 911 issues.] The win for this is to get people engaged and participate in the community. It's a [convenient] neighborhood safety-watch tool to help us report on and stay aware of what's going on in the area."
There is no tracking or collection of personal data. For those who choose to include contact info with a reported incident they are entered for a chance to win a $25 Graham Avenue Community e-gift Card.
Another of the Graham Avenue BID's initiatives is, "our recently launched Cook Street Commons initiative – over six Saturdays this summer – aims at helping the BID play a role in building and growing community for residents and the extended neighborhood."
Question 8: Name a place in North Brooklyn that brings you joy, and why?
"The Moore Street Market continues to bring me joy as I remember my experiences visiting it with my family as a child and reflecting on what it has meant to my identity as a Hispanic New Yorker."